Skip to Content
Sheetrock Repair in Sebastopol, CA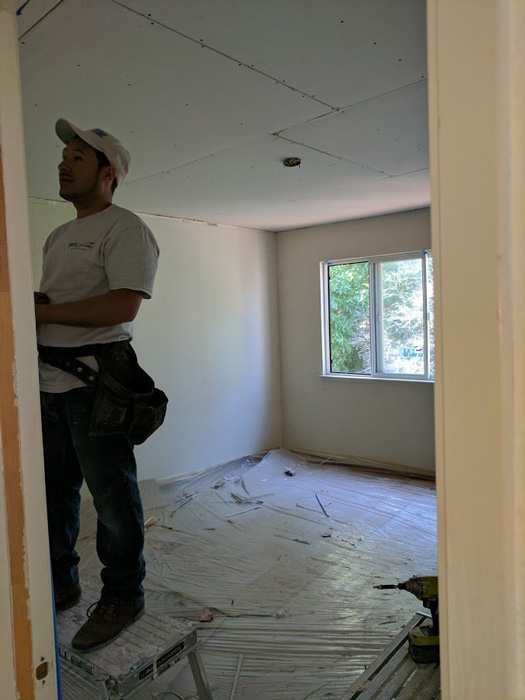 We Are Your Local Sheetrock Experts
Sheetrock is one of the most prominent materials in your home, comprising many of your walls and ceilings. It is essential to keep it in good shape to maintain a lovely look and structural integrity. The experts at Patches In A Day in Sebastopol, CA are proficient at repairing holes and cracks in sheetrock to restore its strength and appearance. We have been serving homeowners throughout the North Bay, San Francisco, and beyond for more than two decades, and we are eager to share our expertise with you. Our family-owned and -operated company employs highly-trained professionals who are committed to excellence. We are licensed, bonded, and insured for your peace of mind, and we will gladly work around your schedule to provide the services you need. Our team offers drywall repair and more, so call us today for assistance.
Knowing When to Replace Sheetrock
The interior walls and ceilings in your home consist of sheetrock. This material is a specific type of drywall, which adheres to metal or wood studs using screws or nails. It comprises a layer of plaster sandwiched between two layers of thick paper. Sheetrock is sturdy but not impervious to damages. If you have issues with your sheetrock, let the professionals at Patches In A Day help. Many customers rely on us following water damage. Moisture can weaken sheetrock and cause it to crumble. It may also lead to mold, which will feed on sheetrock's materials and cause health concerns. Finally, termites may be drawn to sheetrock and cause damages that need professional repairs. Other types of sheetrock damage include:
Cracks
Dents
Holes
Problems that arise from foundational shifts in your home
Our Team Can Repair Small or Large Holes in Sheetrock
Sheetrock is a reliable material, but accidents, doorknobs, and picture nails can cause holes in your walls. Patches In A Day is here to help homeowners in Marin, Napa, and Sonoma Counties when these types of problems arise. Our experts can repair small or large holes, so rely on us whenever you need to repair your sheetrock. To fix small holes, we will:
Fill the void with lightweight spackle
Ensure the spackle is level with the rest of the wall
Allow the spackle to dry for 15 to 30 minutes
Sand the area using a fine-grit sandpaper
Brush away debris or dust
Touch up the paint
Larger holes require a more thorough process. If your hole is larger than four inches, you will need a new piece of drywall. To fix significant sheetrock holes in your wall, our team will:
Cut out the damaged area in a square or rectangular shape without damaging any wires behind the wall
Cut and install vertical support behind where the replacement sheetrock will be placed
Cut a piece of sheetrock to fit the opening
Secure the sheetrock to the support and wall studs using screws
Tape and seal the replacement sheetrock
Sand the area until it is smooth
Apply a new coat of paint
We Are Adept at Covering Sheetrock Cracks
In addition to repairing holes in your sheetrock, we can also address any cracks. These imperfections typically occur around windows and doors. To repair cracks in your sheetrock, we must first use a sanding sponge to make the surface of your wall or ceiling as smooth as possible. Next, we will apply a coat of joint compound over the damaged area. We will allow it to dry before sanding again to ensure smoothness. Finally, we will apply a crack coating to the repaired surface to prevent a recurrence. After ample curing time, we will prime and repaint the area.
Why You Should Choose Patches In A Day
Patches In A Day is a leading provider of sheetrock repair services for homeowners in Marin, Mendocino, Napa, San Mateo, San Rafael, Sebastopol, and Sonoma, CA. We are different from many other home contractors in Northern California because drywall repair is our priority. When you choose us, you can rest assured knowing trained specialists will quickly and effectively fix the holes or cracks in your sheetrock. Our team is committed to improving the appearance and stability of your walls and ceilings.
Contact Patches In A Day Today
Whether you got a little heavy-handed with the hammer while hanging pictures or you punctured your wall while moving a piece of furniture, Patches In A Day can make things right. We offer comprehensive sheetrock repair services for homeowners in Sebastopol, CA, and the surrounding area. Contact us today to schedule an appointment.
Call Us Today to Schedule Your Drywall Appointment