Skip to Content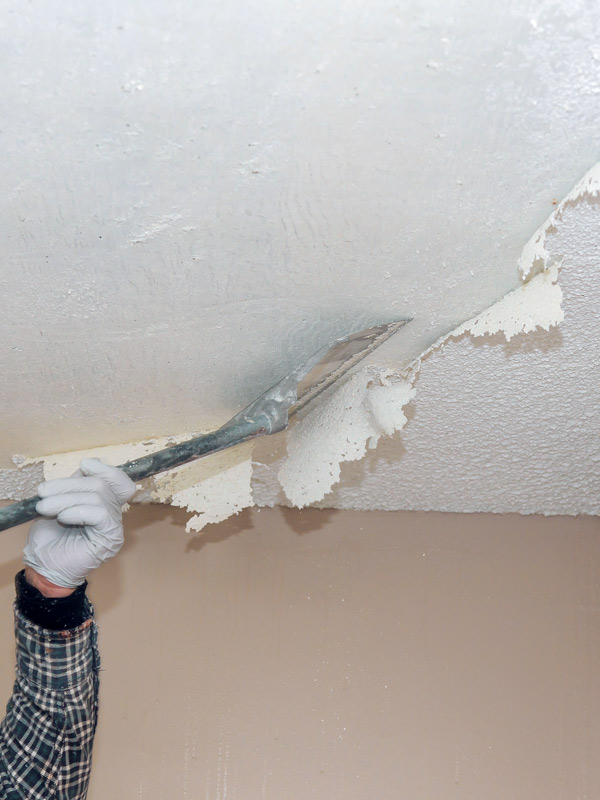 Popcorn Ceiling Removal from Patches In a Day
Few things date a house like a popcorn ceiling. This type of ceiling was wildly popular in homes constructed beginning in the late 1950s, due to its ease of finishing ceilings and masking imperfections. But on the other hand, popcorn ceilings are tough to repair today, and even tougher to clean and collect dust. When you are ready to rid your home of that popcorn ceiling, do not take chances. Talk to our removal specialists at Patches In a Day! Our company can help improve your home's construction and stability with popcorn ceiling removal and replacement that lasts.
What Is a Popcorn Ceiling?
Popcorn ceilings, also known as acoustic and cottage cheese ceilings, are roughly textured with stucco or Styrofoam materials. These materials give them the bumpy look of popcorn. This type of ceiling was popular in home construction in the 20th century because it was a less expensive alternative to properly painting. Popcorn ceilings hid imperfections such as holes or cracks and offered a cost-efficient solution for painters and DIY enthusiasts. They simply stippled with a sponge or sprayed the unique mix with a hopper gun, and created a ceiling for their bedroom, basement, or hallway.
The Drawbacks of a Popcorn Ceiling
The problem with popcorn ceilings is the amount of work required to clean and maintain them. Holes and cracks develop over time. Dirt, spider webs, and dust stick to the craggy surface, and any smoke can quickly stain a popcorn ceiling. When trying to clean a popcorn surface, you can break off bits of it, creating an unappealing uneven aesthetic that worsens over time.
Professional Popcorn Ceiling Removal You Can Count On
Our company believes popcorn ceilings have served their purpose. We know that there are better options for ceilings out there. That is why, for over 20 years, our technicians have been perfecting our professional popcorn ceiling removal techniques. We strive to provide you with efficient, effective popcorn ceiling removal that revitalizes your home's look and causes minimal interruptions to your day. How do we accomplish this? By using our proven multi-step process:
Room Preparation: Our professionals do not merely show up and start scraping away materials. We prepare the entire space, and everything in it, with protective drop cloths, plastic covers, and painter's tape. We remove any light switch covers and furniture and disconnect any appliances like ceiling fans. Whether we are working in new construction or existing home area, our company takes great care to ensure everything is safe and protected before any work begins.
Ceiling Removal: Our techs spray your ceiling with a unique water-based solution to easily remove the unpainted stucco. We then scrape until the entire popcorn ceiling surface is removed. If the stucco is painted, we go through additional steps to prep the space after the removal to preserve the substrate.
Flat Finish Work: After removal, our popcorn ceiling removal technicians fill the substrate to give it a new flat finish.
Clean-Up: Finally, we clean and vacuum everything for you. We leave your room in the best condition possible with comprehensive restorative services that set us apart.
The Benefits of Popcorn Ceiling Removal
Why get professional popcorn ceiling removal service from Patches In a Day? There are many benefits to our expert work:
A Sleek Modern Look: Your interior is smoother and more streamlined than ever before. You can now create the customized look you want and not have to worry about trapped dust or smoke stains.
Resale Value: If you are looking to sell your home, removing your popcorn ceiling and replacing it can only raise the resale value. Many potential buyers will avoid homes that require renovations and ceiling removal right away.
Improved Savings: As Popcorn ceilings age, they start to yellow. They can also take water damage after years of storms and leaks. Replacing them, rather than cleaning and painting over your popcorn ceiling surfaces, can save you more time and money.
Contact Patches In a Day for Popcorn Ceiling Removal
Many home contractors can take care of popcorn ceiling removal. But our popcorn ceiling removal company is different. One of our specialties is popcorn ceiling removal, so we concentrate on these jobs. When you want to remove your popcorn ceiling, call us to get started with a popcorn ceiling removal estimate.
Call Us Today to Schedule Your Drywall Appointment